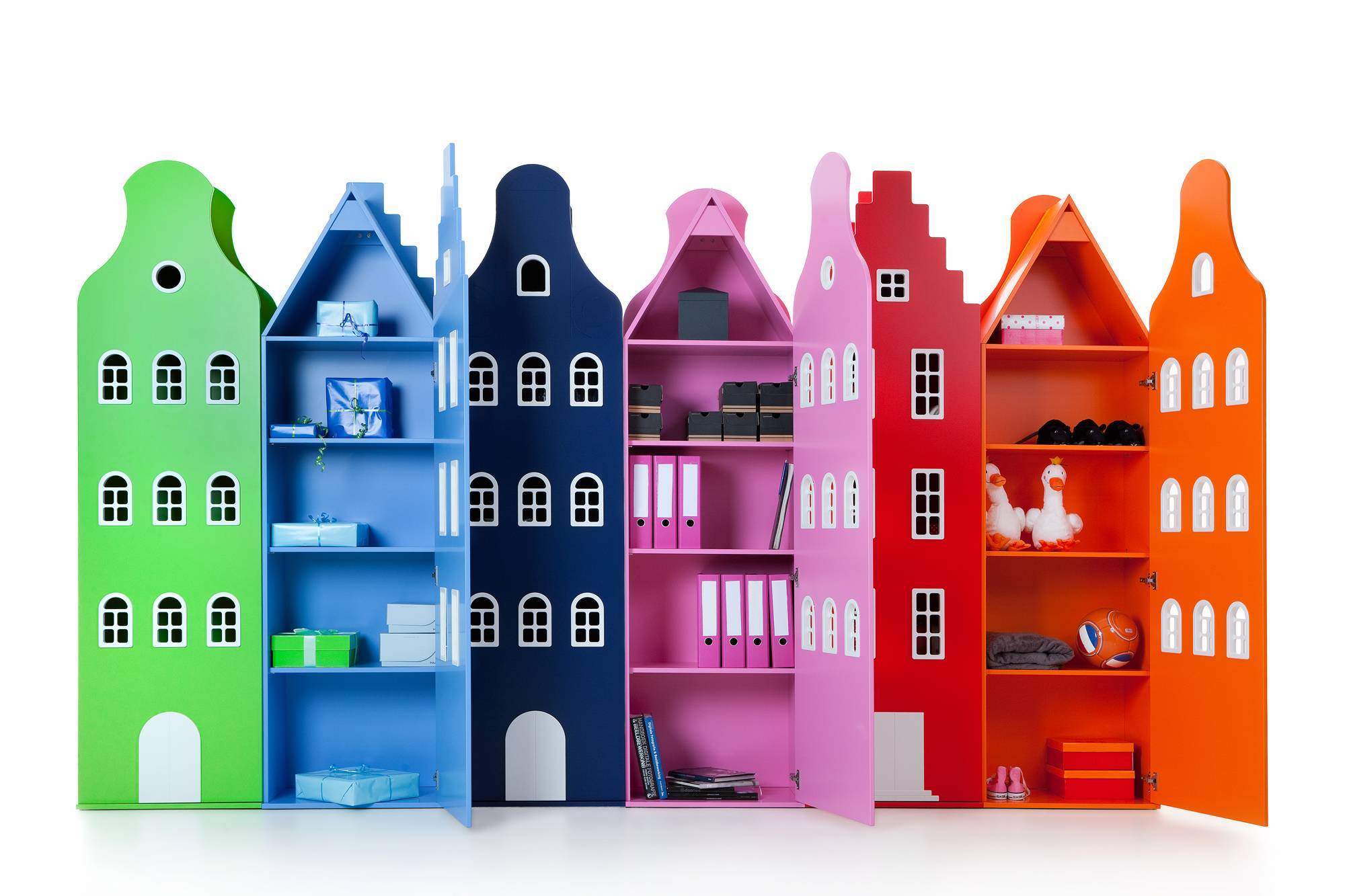 Kast van een Huis, de leukste kast van Nederland
De leukste kast van het land met ontzettend veel ruimte
New collection

Amsterdam Print Do you prefer another style of cabinet that still has the Dutch touch? New in our collection is the Amsterdam Print . These cabinets with Queen Anne style legs, have a subtile illustration of a townhouse by the Dutch artist; Elles.
Collection

Amsterdam Original Inspired on old dutch gable-, and townhouses in Amsterdam. The start of a popular multifunctional storage serie.
COLLECTION

Durgerdam The Durgerdam cabinet is inspired by old Dutch wooden fisherman's houses such as the pastel-colored houses in Durgerdam, along the IJsselmeer.
The Kast van een Huis® from This is Dutch is designed as a multifunctional storage unit. These cabinets can be used as wardrobe, bookcase, to store toys, as cupboard for glasses,crockery and office-equpement. They make a lovely storagewall in your entrance or office and can be used as a room divider.
Canalhouse cabinets
The cabinets are designed in the recognizable style of the Amsterdam canal houses. Standard in stock we have cabinets in two types of facades, the stair/steppedgable and the bellgable. The design is timeless and of sustainable quality. This cabinet is a real eye-catcher in your interior. Due to the timeless design, the cabinet fits into any room.
Cabinet for children's room
The Kast van een Huis® from This is Dutch is also very suitable as cabinet/wardrobe in the children's room. The different cabinets can be placed towards eachother to build a street of storageunits. The cabinets are of excellent quality and come with a clear assemblyinstruction. Due to the practical layout, the cabinet can be used as a wardrobe, toy cabinet and multipurpose storageunit. The ideal storage for a children's room!
Blog & Inspiration

blog & inspiration-subtitle
29

Sep

Lovely designed luxury play section at the Alpengold Hotel Davos

19

Nov

We are present also on the set of "The Bridge" zijn we aanwezig!

23

Oct

The Amsterdam Original Kast van een Huis is exposed in the permanent collection of the Philadelphian Museum Arts. 2013
#ThisIsDutch

Volg ons op Instagram